模型製作に目覚めた2001年2月から船の製作は一度もなかった。今回初めて船を作ってみた。もちろん海のジオラマもこれが初の試みである。船は市販のエッチングパーツを使ってディテールアップしたのみで、ベーシックな仕上がりだと思う。ただウエザリングには時間をかけた。問題は海の製作である。インターネットでいろいろなサイトを参考にして独自の手法を使ってそれらしく作ってみた。海は4層構造で深みを表現している。制作期間は約7ヶ月。内訳は、ミズーリが3ヶ月、フレッチャーが1ヶ月、ホーネットが2ヶ月、ジオラマが1ヶ月。船の配置のオリジナルプランはホーネットを真中に持ってくる予定だったが、ハリウッドのCGアニメーターを目指している親友の原島氏からのサジェスションもありこの配置となった。原島さんありがとう!
I was inspired to build scale models on February 14th, 2001, the day that I visited the scale model contest for the first time.
This is my first ship model, and my first sea diorama as well. I basically built it out-of-the-box with aftermarket photo-etched sets, but I spent many hours on the weathering. The biggest challenge was to build the sea base. I researched many web sites and devised my own method, based on that research. The sea base consists of 4 layers in order to
give the impression of depth.
It took 7 months to complete the diorama: 3 months for the
Missouri
, 2 months for the Hornet, 1 month for the Fletcher and 1 month for the base. My original plan was to place the Hornet in the center of the diorama, but Mr. Harashima, my best friend suggested the current arrangement. He is now studying CG animation in order to become a Hollywood animator (director?). Thanks, Harashima-san..

2004年静岡ホビーショー(2004/5/15-16)に展示されました。今後はタミヤ本社内の歴史館に飾られることになりました。

This diorama was exhibited at 2004 Shizuoka Hobby Show(2004/5/15-16). Now you can see this diorama at the History Museum inside Tamiya headquarters in Shizuoka, Japan.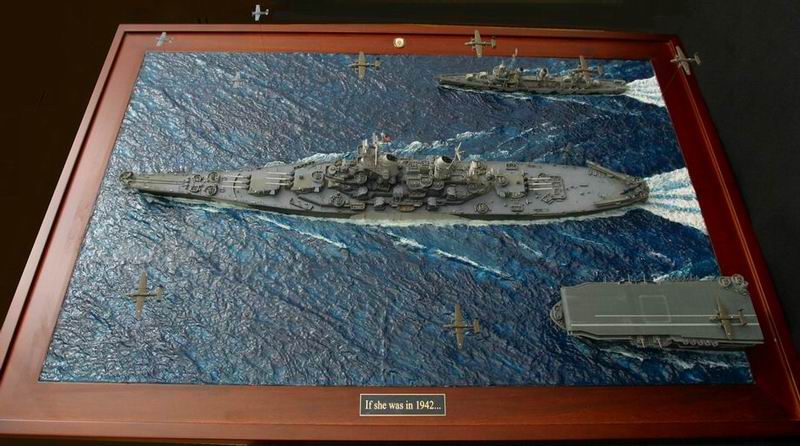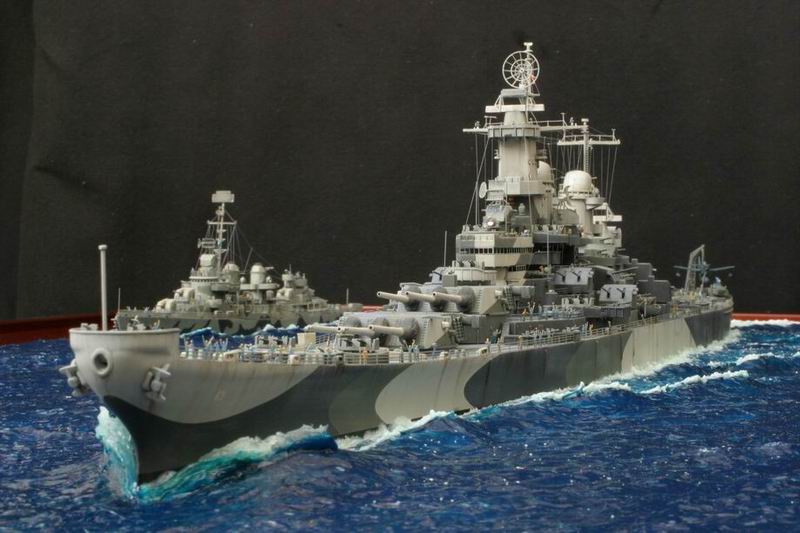 ホーネットが16機のB-25を発艦させ東京を空襲したドゥーリトル作戦は1942年。ミズーリが就航したのが1944年。またホーネットはミズーリの就役前に沈没した。出会うはずのない両艦を並べてみた。「もしミズーリが1942年にいたら、、、」模型ならではの楽しみ方だと思う。
The Doolittle Raid on Tokyo happened in 1942. The USS Missouri was commissioned in 1944. The USS Hornet was sunk before the Missouri came out. It's impossible to meet each other. "If she had been there in 1942...." This is the fantasy of scale modeling, isn't it?
I am looking for the volunteer who can review and correct proofs of my English grammar in this web site. Please email me at masa@naritafamily.com .
English text on this page edited by Jega M